Finding my way to Austin in 1980 has opened my life up to the wonders of the music world. I could not see me living anywhere else. I have worked toward helping musicians with their life dreams. My goal is to carry on what they have started and keep the music playing. I am here to be a part of your dream; when you need someone to book your gigs, call or email me.
For booking,
e-mail Sandra Kull
or call 512 736 2608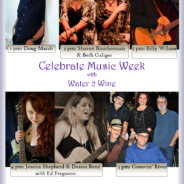 Water 2 Wine Custom Winery and Austin Music Booking present Celebrate Music Week with Water 2 Wine Thursday, March 16 at 1 PM – 6 PM 4036 S Lamar Blvd #100, Austin, Texas 78704 1 pm: Doug Marsh 2 pm: Sharon Bourbonnais & Beth Galiger 3 pm: Billy Wilson 4 pm: Jessica Shepherd and Deann René with Ed Ferguson 5 pm: Groovin' River Presented by Austin Music Booking
read more
BOAT PARTY 2015 – Featuring the Rocking Gospel Project, the Will Gullatt Ensemble, Jessica Shepherd, and Doug Marsh.
read more
Thursday March 19: Featuring local Austin musicians playing a variety of music from Blues and Americana with a little Southern Rock thrown in.Come and enjoy some fabulous music at a great venue, Water2Wine on South Lamar! 4036 S Lamar, Austin TX 78704 March 19, 2015 – Noon – 7 PMNoon – 12:45p George Richardson 1pm -1:45p Letha Mignon 2pm – 2:45p Groovin' River 3pm – 3:45p David D. Stewart and Friends 4pm – 4:45p Will Gullatt and Chuck Hawthorne 5pm – 5:45p Jessica Shepherd 6pm – 7pm Doug Marsh and the...
read more
See photos – Austin Music Booking had loads of fun at the 2012 Boat Party.
read more